On Friday the 7th of May we had 16 students represent our school in the Cassowary Coast District Cross Country. We are very proud of the efforts of all 16 of our students.
U10 Girls:  4th Sienna & 6th Emily
U11 Girls:  1st Madeleine
U11 Boys:  8th Liam
U12 Boys:  8th Case 
Congratulations to our runners who placed in the top eight and will go on to the Peninsula Championships.  Good luck to you all!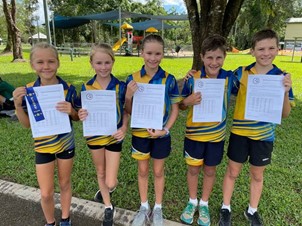 Congratulations to Hannah, Charlize, Makayla, Erin, Riley and Case for gaining selection in the Cassowary Coast U12 Soccer Teams to represent the region at the Peninsula Championships!  Well done to you all!
Finally we have had four students selected to represent the Cassowary Coast at peninsula trials for Rugby Union. Congratulations to Clay, Riley, Liam, and Bailey for your selection.